Fangfoss, St Martin's Church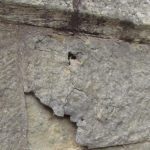 Stone repairs and renewals to the Nave, Vestry and Bell Turret, and to the Chancel, alongside specialist glazing conservation and roof repairs, drainage and archaeology.
Repointing and small areas of ashlar replacements on all elevations, tooled to match existing like for like. The very important medieval corbel band was conserved and a light lime wash applied; 2 new crosses were carved and fixed, based on the existing. The Norman porch was conserved- a gentle cleaning and nanolime treatment of areas showing extreme erosion was carried out. This is a very beautiful church with layers of historic information.