Trinity Church, Ossett- West Window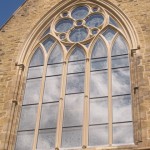 Main Contractor. Work included repairs and renewals to the East tracery window, including gable copings, mouldings and ashlar work; repair and conservation of stained glass. Grade 2 Listed.
The entire tracery window was set out 1:1 on the drawing floor in our workshop, from which templates were made for each stone. The geometry was adjusted where necessary to account for movement in the existing structure.